Best Barber Memes:
These are the Best Barber Memes On The Internet! we absolutely love barber memes and plan on updating this blog for weeks to come! During this whole pandemic with the COVID19 Virus things have been rather serious lately. We wanted to break that negative cycle for a moment and get lost in the sauce of funny MEMEs are you ready? Scroll down to see the funniest barber related memes!
1. Barbers Vs Therapists: 
Nothing is better than to sit outside and create a debate station on the newest trending topics, so what of it? I mean we cut their hair, discuss culture, problematic situations and to try restore a clients mental state all in the same process. I don't know about you, but i feel like i'm being taken advantage of!
2. The Sweet Smell Of Perfection:
You ever walk into a barbershop and all the barbers are frozen in time? This is the exact look barbers make when they play chemist with their aftershave & scented alcohol. A soft refreshing smell that brings all sorts of feels.
3. Just A Bit Off The Lip, Good Sir!
He looks a bit like the 1950's "bank teller" saying things like: "hello good sir, can I help you with your business account or perhaps a money transfer?" haha, ridiculous! but it's absolutely true.
4. Dude, Just Take My Money!
So the new hit barber product has come to town, the tomb 45 wireless charging station. Every barber with a set of wireless clippers are dying to purchase this, and it makes perfect sense why they should. Why not use it? you can even charge your phone on its surface!
5. What is a cat to do?
Being a barbershop owner isn't all what it's cracked up to be. Unfortunately now matter how much the barbershop owner bends over backwards for their barbers, enough is never enough. poor kitty.
6. Final Boss… FIGHT!
Hey I remember you, ya! that's right, you're the boss from the 4th dungeon. What was your special attack again? oh ya! being an asshole!
7. Oh Baby, You Looking Like A Snack!
I've never been a cheater, but when I see a new pair of clippers hit the market..All bets are off when it comes to loyalty!
8. Cup Of Joe, Anyone?
Share this with your barber friends, and ask them again how much they enjoy cutting hair. Because this guy needs a trim…
9. Platform Barbers On Stage:
Have you ever been to a hair show? Then you know exactly what I'm talking about! #Hilarious
10. Stop Moving!
Just hold still will ya?! I'm almost done, you really need to hold still Bruh!
11. Now Listen Up, Punk…
she's so bitter-sweet to her children it's adorable.
12. Dressing To Impress.
The battle wages on, as professional barbers fight under-dressed barbers in this week's "Battle Royal." Even with the evidence stacked as high as the ceiling, ghetto barbers still insist to dress down and complain about how they don't make any money.
13. Back From Vacation.
When your client comes back from a vacation and wants a full-blown haircut. But knows he only has a few dollars to spend, so he's fishing for those "line-Up" Prices!
14. You Are NOT The Barber!
It never fails, the New barbers always think their "King Shit" when it comes to doing fades. Unfortunately for them..that's a LIE!
15. The Wheel Of Bullshit.
The chart all barbers are familiar with. The daily struggle of working in the barbershop.

16. Back To School.
Kermit the frog hitting those barbers below the belt with this one. Kermit you a fool!
17. You're Not A Total Failure.
It appears that old punchlines never truly die, "Supercuts" along with "Great Clips" employees have always been the butt end of the jokes when it comes to the haircutting profession. "Supercuts" Employees can't hold a match to the raw talent of a professional barber shop sorry guys, but it's true…
18. Yoda Knows Best.
I bet you didn't know, Yoda was a motivational speaker now did you? Hilarious!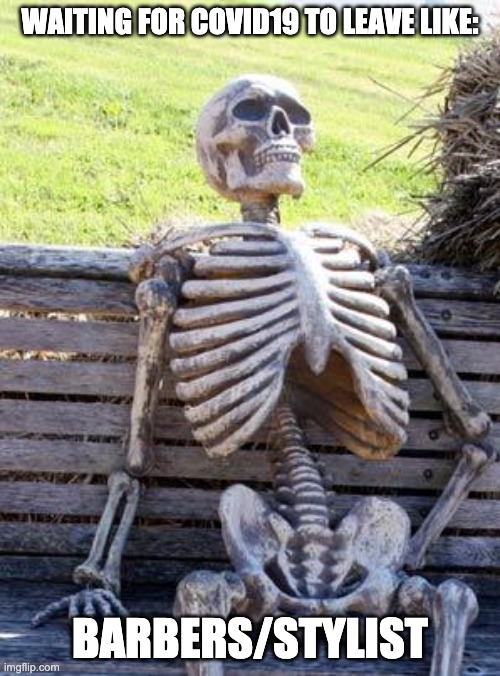 19. Covid19 Got Me Dying.
Damned it we cut, damned if we don't. Come'on covid19 let's get a move on already!
20. Don't Knock My Hustle.
Be safe out there guys! although we shouldn't be doing it, we have those rebels who've accepted the "risk vs reward" and deemed it okay to proceed with haircutting. They must be rich cause I can't afford the repercussions can you? 
21. Nope! nope, nope…
Whether it was the dog, or even the fish in the "fishtank". You couldn't pay me enough money to stick around in that house!
22. Who You Calling A MeatHead!?
23. I Remember That Fortnite…
24. Ohhhh Snap!
25. Yikes, Now Thats Just Messed Up! HAHA!
26. Now That Just Looks Racket!…No?
27. The 80's Was A Hell Of A Time To Be Alive!
(Rock On Joe Dirt!)
 28. …And They Walked Safely On The Dry Ground. 
29. Blows On Screen* 
30. Got My Boy Lookin' Like A Skittle!
31. I mean, It's Not Bad…We Can Build On It.
32. I Got $5 On It!
33. Ma'ma Don't Like Cheaters Bobby!
34. I Mean, It's Essential Right?
35. Now That's Art!
Conclusion:
Hope you have a few good laughs out of these memes, to brighten up to your day! We'll be adding new barber related memes as the weeks go by, so stay tuned for more funny barber meme content!
Looking For A Pair Of Clippers Or Trimmers?
Our team at cyclops brand found the best clipper & trimmers on the market and broke down each individual clipper by weight, model and brand type. We have you covered when it comes to the facts about quality and which clipper or trimmer is going to be best for you as the barber. Check out the article "Top 10 Best Clippers & Trimmers" to get all the information you'll need when picking the best one!
The Best Traveling Barber Cases:
Are you a barber? then you need to check out these great barber cases for traveling and making house calls. We put together a complete buyer's guide breaking down each barber case to make sure you get exactly what you're looking for in a case! Find out more now by clicking the "Read  Blog" down at the bottom.